Motorola Razr 2 release date, price, features and news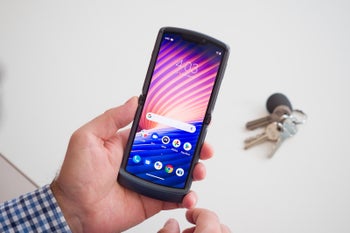 The
Motorola
Razr 2020 is officially here! The foldable phone is ready to impress us with bumped up specifications and a lot of improvements over last year's Razr, while still preserving its eye-catching, slim, and compact design. Motorola says they have listened to 2019 Moto Razr customers' feedback and with this iteration of the cool foldable, the company has strived to improve the foldable experience. Specs, design, camera: everything seems to have improved, at least on paper.
Motorola Razr 2020 Release date
Motorola Razr 2020 Price
Razr's price of $1,399 confirms Motorola's ambitions to shoot for the premium smartphone market, although, luckily this price is lower than what we expected earlier.
Okay, let's jump straight into one of the most interesting aspects of the new Moto Razr 5G. We see a considerable upgrade in the specs department compared to last year's Razr. Here is a glance at the official Moto Razr 2020 specifications sheet:
Display: 6.7 inches main; external: 2.7 inches
Camera: Main 48MP with OIS, laser autofocus; Front 20 MP
Hardware: Qualcomm Snapdragon 765G, 8GB of RAM
Storage: 265GB, not expandable
Battery: 2,800mAh, 15W TurboPower charging
OS: Android 10, Motorola My UX (personalization, Moto Display, Moto Actions, Moto Gametime, Moto Audio)
Motorola Razr 2020 Design
Motorola has carefully refined last year's Razr design to a very good-looking, sleek, and slim clamshell foldable phone for its 2020 iteration. Razr's main 6.2-inch display is surrounded by thin bezels from both sides, while the chin is significantly reduced in comparison to last year's model. Motorola has also enhanced the hinge, making Razr more comfortable for one-handed usage. The fingerprint sensor is located on the device's glass back, elegantly hidden beneath the Motorola logo. The Razr 2020 comes in three colors: Polished Graphite, Liquid Mercury, and Blush Gold.
Additionally, Razr's hinge is now more durable, according to Motorola. At the same time, it provides a zero-gap closure that should offer more protection to the device's screen from dust and other small particle damage.
Motorola Razr 2020 Display
The foldable has the same main display size as its previous iteration, despite rumors hinting at a bigger main display. The external display is also the same size as last year; however, it now packs some cool new features. For example, it gives you easy access to your favorite apps, updated gesture navigation that mimics the gestures of Android 10, speech-to-text, smart reply, and a full keyboard in case you need it.
Motorola Razr 2020 Camera
Motorola has also given some love to Razr's camera system with a big improvement over last year's Razr. This time around, Razr is equipped with a 48 MP camera with quad-pixel binning technology, complemented by laser autofocus and Optical Image Stabilization. Similar to other foldable phones, the main camera can double as a selfie shooter, so you can achieve great quality selfies.
Speaking of selfies, Motorola has added some software tweaks to make the selfie experience more fun. You get things like Group Mode, Portrait Mode, and Spot Color. Razr also has an internal 20 MP camera that can be useful for video calls.
Another cool feature that you can have with Razr 2020 is the External Preview for photos, which allows both the photographer and the model to visualize how the photo will turn out.
Motorola Razr 2020 Processor and Memory
The Moto Razr 2020 comes with the Qualcomm Snapdragon 765G processor. The fast mid-range processor supports 5G (in areas where 5G network is available), while also being great for gaming. The memory has also been upgraded over Razr 2019 ? the new Razr comes with 8GB of RAM and 265GB of non-expandable storage.
Motorola Razr 2020 Battery life
The 15W TurboPower charger, included in Moto Razr's box, should top up the not-so-enormous battery quite quickly. We'll tell you once we test it.