Apple Watch Series 6 release date, price, features and news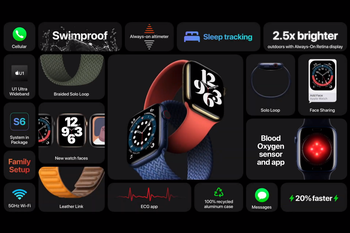 Jump to section:
Apple Watch Series 6 specifications and new features
New colors
The Apple Watch Series 6 will be available in several new colors, most notably Product Red, which is a first on an Apple Watch. Along with it, other colors include:
Blood oxygen measuring
Using red and infrared light, the new health sensor on the Apple Watch Series 6 will be able to measure the user's blood oxygen levels in just 15 seconds. This new sensor will also capture periodic background readings and store them in the Sleep app. The blood oxygen measuring feature will be especially useful for detecting respiratory and cardiac health issues.
In relation, Apple is starting 3 new studies to help manage and identify conditions via the new sensor, so its functionality may improve in the future.
New Watch Faces
The Apple Watch Series 6 will include new Watch Faces, such as a GMT one, which will show multiple time zones at once, and the Count Up one, which will let the user start tracking laps immediately. A simplistic and beautiful Typography Watch Face will show numerals in different styles, while a Memoji Watch Face can show the user's favorite Memoji on the lock screen. A Stripes Watch Face will allow users show pride in who they are or show support for their favorite teams
In addition, Apple has given more freedom to developers for developing Watch Faces for the Apple Watch, which will lead to more specific Watch Faces to choose from via a download. Included examples showed a photography-oriented Watch Face with a shutter button, while another was entirely about showing medical stats.
New watch bands and band colors
The Apple Watch Series 6 will come with a new band style, made out of custom, stretchable silicone for easy taking off and putting on. The band will be one continuous piece, durable and swim-proof. This new band will come in 7 different colors. A braided version of the Apple Watch Series 6 band will also be available, itself made out of recycled yarn and in 5 colors.
Additionally, a new leather band and updated Nike Apple Watch sport bands will also be available.
Apple Watch Family Setup
A new feature called Apple Watch Family Setup is also coming, and will allow parents to just use their own iPhone to pair their children or parents' Apple Watches. Thus, paired Apple Watches will not need separate iPhones for each family member. They'll also get their own phone numbers, making kids and parents just a call away.
Parents will also be able to specify which contacts will their kids be allowed to communicate with, or set up automatic location notifications for knowing where their kids are. A School Time mode will enable Do Not Disturb and restrict interaction with the Apple Watch. In turn, kids will be able to create Memojis directly from their watch and share them with messages.
Sleep tracking is here
Apple has been working actively to change this and it has introduced a new "Apple Watch Connected" initiative for popular gyms in the United States. The new program will have the gyms bring Apple Watch-connected equipment as well as reward programs based on workout data collected by the watch.
Participating gyms are required to offer an app for either the iPhone or the Watch so that members can track their fitness progress, plus they have to support Apple Pay and offer a rewards program. Gyms will also need to have equipment compatible with Apple's GymKit API for tracking workouts. The program will require users to opt in, meaning that Apple will not automatically gather data about you.
The list of participating gyms includes Orange Theory, Crunch Fitness, YMCA, and Basecamp Fitness, and more can join in later on.
We are not sure whether this will result in particular features related to the Apple Watch Series 6 or all Apple Watches, but we would not be surprised to see a focus on better gym exercise tracking become one of the major features in the Series 6 release.
Apple Watch S6 New Health Features
Blood pressure and blood sugar measurements, handwashing detection
Will the Apple Watch Series 6 come with a new design?
The rectangular shape will stay
Unlike its band design, the Apple Watch Series 6 itself has not been changed in terms of design. It retains the same rectangular shape with rounded corners as its predecessors.